During one of our brainstorm sessions, the word 'nido' (Italian for nest) came to play. It has since embraced our playgroup, literally. Baby Brain's learning programmes in Hong Kong has always and continues to focus on providing a nest where our young children can feel at home in a fun and interactive learning environment.
NIDO 1 (12-18 mths)
Latest research including those from Harvard's Centre for the Developing Child has explained the importance the experience a child has in his first three years has would impact on the brain development and thus the learning thereafter.
The curriculum is specially designed for early walkers. Children's well-beings rooted mainly from their sense of security, love, and having needs met in order to build trust in the world so different from mother's womb. The program not only provides learning opportunities for infants, parents and caregivers who attend will also benefit from parenting practice which they can extend their child's learning at home.
At Baby Brain's Nido 1, we focus on stimulating children's early brain development through providing them hands-on experience to build various underpinning skills. We will also introduce ways how parents and caregivers can support their child's language and literacy development starting from an early age.
NIDO 2 (18-24 mths)
Available on Saturdays, caregiver/s are required to accompany the child in our Nido playgroups, to a maximum of 7 children per class.
While for those who are ready to attend classes independently may transit to our popular weekday Independent Class programme.
In each Nido session, children will be involved in one or two of the following curriculum areas, depending on the interests and attention span of the children.
LITERACY AND EARLY MATH CONCEPTS
Research shows that when adults create rich language and literacy environments and respond to a young child's communication in specific ways, they can boost that child's emergent language and literacy development and increase the likelihood of future academic success. And the adults with the greatest potential to help are the most important ones in that child's life: his parents and caregivers.
With the limited span of attention focus of young children, classes are carefully planned to arouse children's engagement through interactive approach where parents and caregivers also become part of the class.
Music and Movement
There are endless benefits when one talks about music. Not only does it stimulate the brain's neural pathways that connects higher cognitive intelligence, it is more importantly fun to listen to and more so to play with.
Music is an experience involving expression of feelings. It encourages your child to express themselves in positive ways to release their emotions before they have the words to tell you so.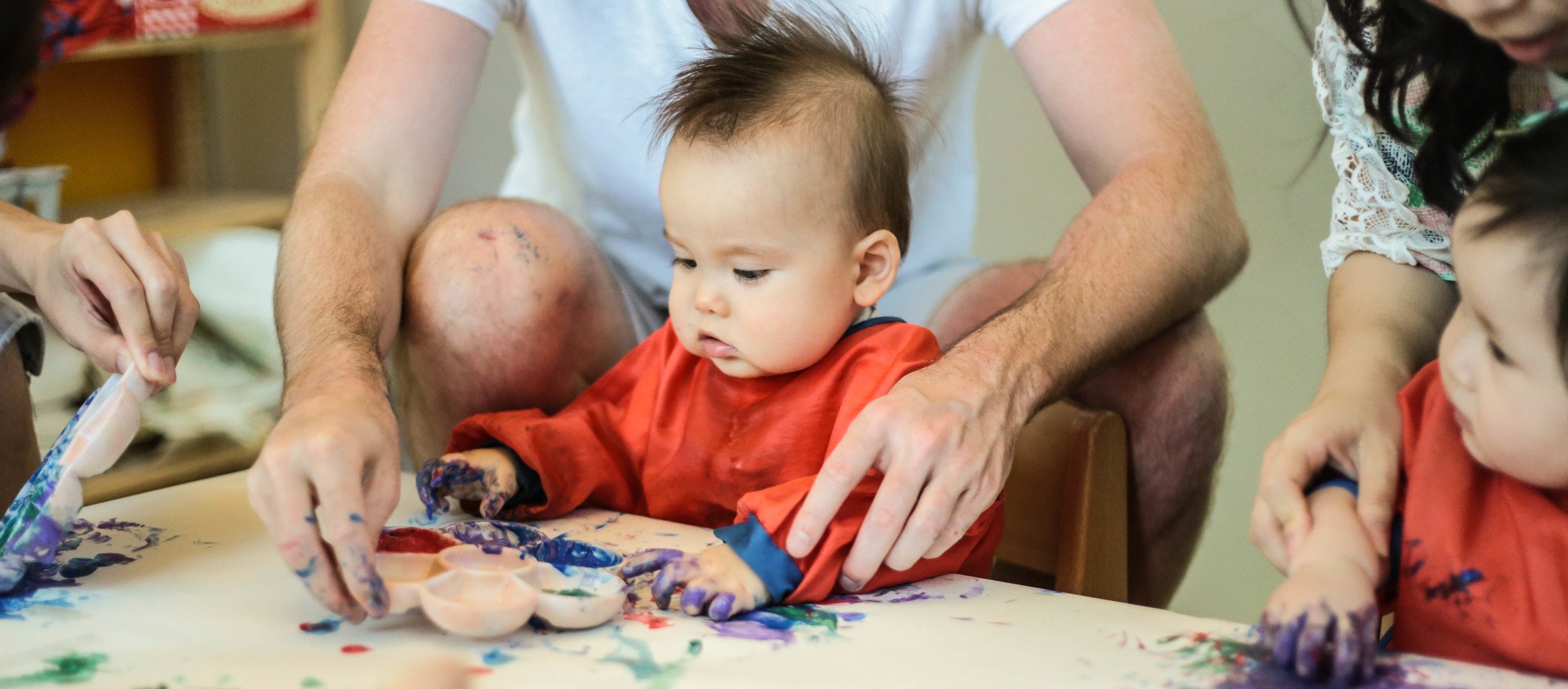 "The process is the outcome". Learning to express one's ideas and thoughts has proven to promote stronger brain architecture. Art is such a powerful tool which allows young children to represent their ideas using the most minimal tools that come in their birth - their hands. Adults will also learn to understand their world and their working knowledge built from their everyday life.
food sciences / cookery
Exploring raw materials; feeling and being involved in the actual process of food-making can be great experiences for children to make sense of how their foods came about. Adults and children work in partnership in a safe environment to learn about food and seeing the wonderful chemical reactions that happen.